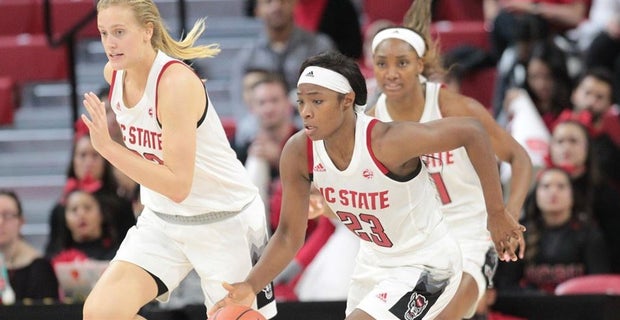 RALEIGH — NC State women's basketball moved to 7-0 on the season with a huge win over Michigan (5-1) by a final of 66-55 on Thursday night at Reynolds Coliseum. The Wolfpack was led by Grace Hunter, who finished with a team-high 19 points and eight rebounds — including going 11-for-11 from the free-throw line.
The 7-0 start marks the best start since the 1999-2000 season. 
"I'm really proud of the defensive effort in the second half to hold them to 23 points," head coach Wes Moore said. "Hopefully that's something that will carry over, we'll gain some momentum from that. … Nice win that'll look good on the resume."
The Pack got off to a slow start on the night, scoring just 13 points on 31.6 percent shooting in the first quarter, including 1-for-8 from behind the arc. State trailed for nearly the entire first half, including a halftime deficit of 32-29 with State shooting 1-for-10 on 3-pointers.
"Nobody's shot was really on," Kiara Leslie said. "So when we started playing as a team, getting easy buckets and defending, that picked everybody up and got everybody hype to come out in the second half and play the way we did."
The second half was a completely different story.
State never got hot from outside — shooting 3-for-21 — but played consistent basketball inside and solid defense on the other end. The Pack shot 23-for-66, but going 17-for-22 from the charity stripe and smothered the Wolverines defensively, forcing 20 turnovers and coming away with 26 defensive rebounds on the night.
"We've been preaching [getting to the free-throw line]," Moore said. "I knew [rebounding] was going to be a big part of the game. … For us to pretty much break even in that area was not a bad thing."
Leslie was one of the stories of the night, tying for the team lead with eight rebounds along with Hunter and finishing with 15 points of her own. Freshman Elissa Cunane came off the bench to play 29 minutes and finish 5-for-8 with 13 points and two blocks.
Where Cunane also excelled was defensively against Hallie Thome, a two-time All-Big Ten First Team performer in the post. Cunane held her to just five points on 2-for-8 shooting and came away with two blocks in the paint.
"We knew she was good and we knew she was left-handed," Cunane said. "So I just tried to sit on her right shoulder and hit her early when she came down the court. Tried not to let her bury me too deep."
The Wolfpack will return to action at Reynolds Coliseum on Sunday at 2 p.m. against Old Dominion. With a chance to move to 8-0, the Pack is on the cusp of being a Top 10 team in the country after passing one of its toughest non-conference tests of the season against the Wolverines.