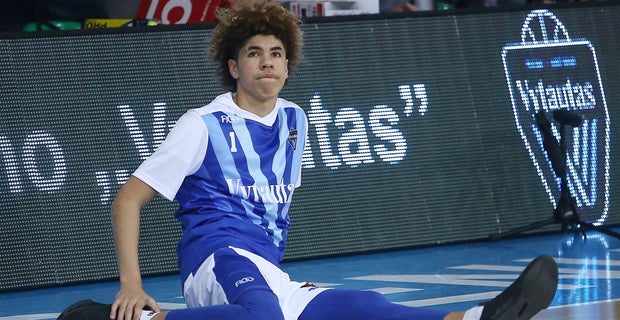 Senior guard LaMelo Ball showed up at Michigan Saturday for the Wolverines' 70-62 victory over Western Michigan, according to Jake Weingarten with Stockrisers.
Citing a source, Weingarten tweeted that Ball was in attendance before adding, "Welp here come the eligibility questions."
Indeed, Ball's eligibility could be one of the biggest questions facing the 2019 class. A former five-star prospect when he played for Chino Hills in California, Ball left the school and turned pro after his older brother LiAngelo left UCLA to do the same after he was suspended for shoplifting on the team's trip to China.
But despite playing professionally with Prienai in Lithuania and then with the Los Angeles Ballers in the Junior Basketball Association, LaMelo resurfaced on recruiting radars earlier this fall when he signed on to play at SPIRE Institute in Geneva, Ohio. The Ball family has maintained that LaMelo himself hasn't accepted any money, meaning he would still be eligible to play in college. And Ball told media gathered at his SPIRE arrival press conference that he wanted to play college basketball "at a top school," with LaMelo mentioning North Carolina, Duke, Kentucky, Kansas and Michigan State by name.
Michigan wasn't mentioned, though the currently undefeated Wolverines would certainly fit the definition of a top school.
Of course, there's sure to be plenty of publicity about LaMelo's search for eligibility; some other prep schools have canceled games with SPIRE, noting that they don't think he should be eligible to play at that level. That included national powerhouse La Lumiere.
"We aim to put together as competitive a schedule as possible for our team," La Lumiere said in a statement, "but we have never played against a team whose roster included any players who have played at the professional level."
A 6-foot-6 guard with a high skill level, LaMelo was originally committed to UCLA before leaving his commitment to that school behind when he elected to turn pro. And despite LaMelo's expressed interest in playing at the next level, this could be one of the first indicators that college coaches are showing interest right back.
Evan Daniels, 247Sports director of basketball recruiting, said LaMelo would likely push for a ranking among the top players in the class if he were eligible.
"He's always been a talent; look, he's a five-star prospect," Daniels said. "He's physically gifted, he's athletically gifted and his skill-set is promising. As for questions, LaMelo's shot selection is a concern, probably playing with others would be a concern. From a pure talent standpoint, the kid is a good basketball player. He's a talent.
"We're going to have to rank him [again]," Daniels said. "That's a conversation we're going to have with our team, but if he's playing high school basketball, we're going to rank him."