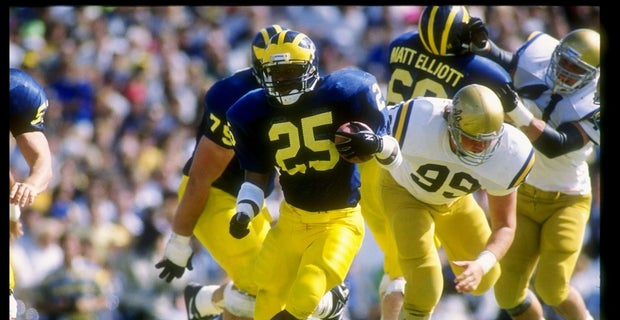 Similar to his rushes past opposing defenders, Jon Vaughn's career at Michigan was short, but plenty memorable. This week, he shared that journey and the story around it, speaking with 247Sports' Zach Shaw on WTKA's Inside the Huddle for the show's weekly "Game of My Life" segment. You can listen in the embedded link below.
Initially starring as a soccer player and state track champion out of Missouri, Vaughn took to football in the second half of his high school career, and chose to continue his football career at Michigan over UCLA, Oklahoma State, Minnesota and others. And though it took two years for him to crack the starting lineup, he made it count.
Rushing for 201 yards at No. 1 Notre Dame and 288 yards against UCLA the following week, Vaughn burst onto the national seen as one of football's most explosive backs. He would go on to rush for more than 1,300 yards, capturing the 1990 Big Ten Offensive Player of the Year award as Michigan clinched its second consecutive Big Ten title.
But playing under Gary Moeller after committing to Bo Schembechler and sharing carries with Ricky Powers, Vaughn declared for the NFL Draft after his redshirt sophomore season. One of the first players to declare for the draft with two years of eligibility remaining, Vaughn's decision was met with criticism. Yet he achieved his professional dreams, being selected with the first pick in the fifth round of the 1991 NFL Draft and going on to have a five-year NFL career.
In his interview, Vaughn opens up about his time at Michigan, discussing the transition he had upon arriving to college, the lessons he learned working his way through a crowded depth chart, his favorite memories with Schembechler (and why he committed to the legendary coach), the thrill of winning the Big Ten title and his thoughts and advice to the current Wolverines team. He also discusses his current work and more.
Listen in the embedded link above, and be sure to catch Shaw on Inside the Huddle Monday through Friday from 10 a.m. to 1 p.m. on WTKA 1050-AM and online at wtka.com.