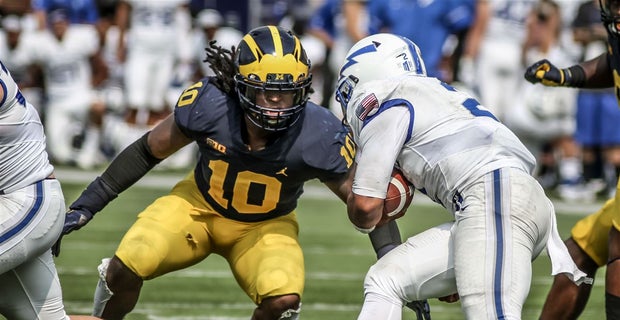 One day after announcing his intentions to declare for the NFL Draft and skip the Peach Bowl against the Florida Gators, Michigan junior linebacker Devin Bush Jr. has officially hired a sports agency to represent him through his draft process.
According to sports agent Drew Rosenhaus, Bush has signed with Rosenhaus Sports, which represents countless NFL players for 30 years. The high-profile agent tweeted out the news on his official Twitter account on Thursday.
@_Dbush11 welcome to @RosenhausSports pic.twitter.com/7flE4Owpu7


— Drew Rosenhaus (@RosenhausSports) December 20, 2018
Bush announced on his social media accounts on Wednesday his intention to declare for the 2019 NFL Draft as well as forgoing the Peach Bowl as he had not been medically cleared to participate by the U-M medical staff after suffering a hip injury in the loss against Ohio State.
"To all who support me, I have some breaking news to share," Bush's statement read. "Despite getting treatment every day, I have not been cleared to practice or play in the Peach Bowl due to the hip injury I suffered in the last game. Due to this injury, I have thought hard about my future in football. Having been injured I realize how fleeting this sport can be. It has always been a dream of mine to follow in my father's footsteps and play in the NFL. This injury has made me realize how important this goal is to me and my family. Therefore I have decided to forgo my senior season and enter the 2019 NFL Draft. I want to thank God, my parents, family, friends, coaches, teammates, the University of Michigan support staff and all my fans. A special thanks to Coach Harbaugh and Brown for all that you have done for me. Forever Go Blue!"
Bush will arguably go down as one of the most decorated linebackers in U-M football history. Named a consensus All-American this season, as well as winning Linebacker and Defensive Player of the Year in the Big Ten Conference, Bush's absence on the U-M defense against Florida will undoubtedly be felt.
Appearing on the Inside Michigan Football radio show on Wednesday, U-M head coach Jim Harbaugh had nothing but positive things to say about the linebacker he recruited and understands the tremendous shoes the next linebacker in the rotation will have to fill going forward.
"He's had a stellar career," Harbaugh said of Bush. "He's an All-American, someone who's gonna have his picture up on the All-American wall. I think it's gonna be ingrained in our minds of No. 10 running and hitting and making plays sideline-to-sideline. I even said it earlier – you recruit players now, and you say, 'He's gonna be like Devin,' or, 'Could this guy be another Devin Bush?' And you're out there looking for that player."