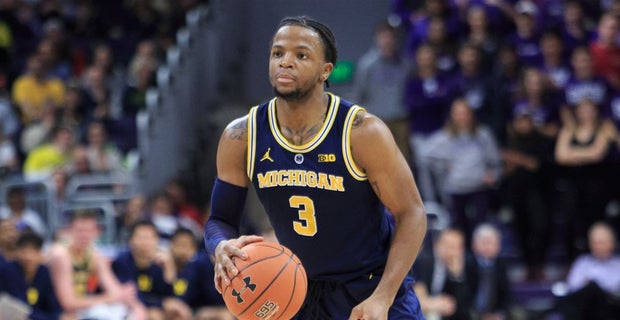 As Michigan piled up big wins this year, the Wolverines shot up the polls, quickly jumping from the low teens into the top 10 with their big win at Villanova.
But the Wolverines have found climbing up from that point significantly more difficult, topping out at No. 5 this week in both the Associated Press and Coaches polls, even getting jumped this week in both by a Tennessee team that has a loss.
Jeff Borzello ranked Michigan higher this week, with the Wolverines coming in at No. 3 in ESPN's Power Rankings.
"The Wolverines' defense is starting to show some cracks, having their two worst performances of the season last week against Northwestern and South Carolina," Borzello wrote. "The Gamecocks were the first team all season to score more than one point per possession against Michigan, and the Wolverines allowed both opponents last week to shoot 50 percent or better on their 2-pointers."
Are those really cracks? Northwestern still scored under a point per possession, which makes South Carolina a one-game sample size … a sample size where the Gamecocks largely took care of the ball and shot well from the field. It ranked as South Carolina's third-best offensive performance of the year; South Carolina Upstate and Coastal Carolina had more success defending the Gamecocks. Surely, that's not because either of those programs have better defenses than Michigan.
This isn't to knock Borzello, who has Michigan closer to what its ranking should be than either of the polls. Setting preseason rankings aside, there may not be a team in the country with a better résumé, much less a team that passes the eye test so thoroughly. Only once this season has Michigan finished a game in single digits, the road win over Northwestern. And included in those double-digit victories are three over teams in KenPom's current top 16.
The Wolverines are tremendously well-coached on both sides of the ball, appear to have all the personnel to remain elite defensively — maybe even more so than in previous years with the emergence of Jon Teske as a rim protector — and have three high-level scoring options right now in freshman Ignas Brazdeikis, Charles Matthews and sharpshooter Jordan Poole, with other players capable of stepping up on a night-by-night basis. That Zavier Simpson has developed the kind of distribution to pair nicely with his
Simply put, there aren't many (any?) teams playing better than Michigan right now, and the Wolverines have the kind of roster balance that makes them capable of surviving an off night. And that makes Michigan dangerous moving forward. The Wolverines not only should have (at least) a spot in the top three right now, they look like the kind of team with the potential to win it all come March.