Two years ago, Sean Clifford led St. Xavier (Cincinnati) High School to a double-overtime victory in the Division I Ohio state championship game. Now a redshirt freshman at Penn State, the quarterback is observing from afar as his brother emerges to become a key playmaker for the program.
Liam Clifford, a sophomore at St. Xavier, caught a touchdown pass in three straight games this September and punctuated his regular season with 75 receiving yards and another score in the finale, according to the school's StatBroadcast system.
The 6-foot-2, 190-pound underclassman — whose 2018 highlights are included above — is listed as a quarterback and receiver on the St. Xavier roster. Junior Wyatt Hudepohl, a Kentucky Wildcats baseball commit, handled starting QB duties.
Labeled an "athlete" in the 247Sports database, Clifford is officially on the board as a Power Five prospect. A 2021 recruit, he recently secured a trio of scholarship offers that quickly alter the complexion of his burgeoning football career.
Clifford announced the arrival of his first FBS offer from the Michigan Wolverines last Wednesday. Less than 20 hours later, he shared news of an offer from the Pittsburgh Panthers. The hometown Cincinnati Bearcats entered this mix on Monday.
The sudden recruiting rise of his younger brother stirred emotions for Sean.
"Words can not explain how proud I am of my brother!" he tweeted last Wednesday in response to the Michigan offer. "From playing in the backyard as kids to late nights in the weight room before I left! You are the hardest working dude I have ever met! Love you to death bro, so much more to come!"
Liam attended a Nittany Lions camp in June, working through quarterback drills under the watchful eye of his brother, as you can see in the photo below.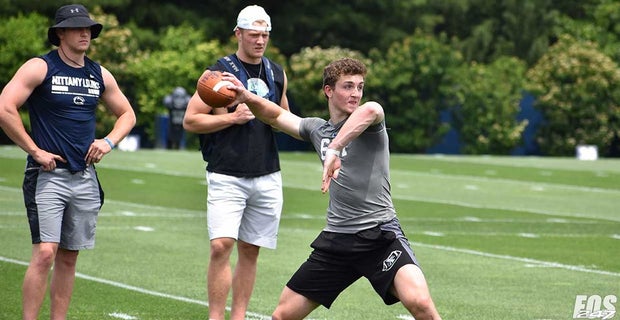 Liam appears primed to follow Sean's footsteps as a highly regarded recruit. Considered a four-star talent and top-200 overall prospect in 247Sports 2017 composite rankings, Sean earned offers from nearly 20 FBS programs during his prep career and pledged to Penn State before his junior year.
This season proved to be a step forward in his progression at Penn State. After taking a redshirt last year, Clifford entered the 2018 campaign as Penn State's primary backup quarterback to Trace McSorley due to an injury suffered by anticipated No. 2 option Tommy Stevens.
"I'm just glad I got the opportunity to play, the opportunity to help the team," Clifford said in September. "When my number was called I just relied on my guys and everyone did their job."
His first collegiate pass attempt resulted in a 34-yard touchdown to Brandon Polk at Pitt. One week later, he set a Penn State record by completing a 95-yard scoring strike to Daniel George vs. Kent State.
Clifford finished the regular season perfect on five pass attempts with 195 yards and two touchdowns.
"I think in a lot of ways this has been a blessing in disguise," Franklin said in September while assessing QB dynamics. "If Tommy had been taking the reps that he had been normally taking in practice and games, then maybe Sean wouldn't have been able to get this opportunity. Now we've got three guys that have all played in games and played at a pretty high level. So I think in the long run this is a real positive for us."